Menu
Concerts
Reviews
Multimedia
Legal Information
Concerts Reviewed - 1972
Buffalo, N.Y. - April 5, 1972
by Evan
Elvis opened his April 1972 tour in Buffalo on April 5, 1972. It is said that rehearsals seen in the film Elvis On Tour showing The King singing the song I, John was filmed on the day of this concert.
Parts of this concert was filmed on a hand held Sony camera by the Addidge/Abel team (probably without sound). The ending of Suspicious Minds can be seen during Elvis On Tour showing Elvis performing a short yet wild karate demonstration.
This audience recording opens with a wild and enthusiastic audience drowning the opening riff.
"Oh See, see see rider" Elvis sings SEE SEE RIDER much to the same way as the familiar April 9, 1972 version, even James Burton's guitar solo is the same. In fact, this version is so similar to the Hampton Roads version that to the listener the only difference is heard after the instrumental when Elvis sings, "Well I'm going, a-way baby" then in the next line, when, in Hampton Roads he repeated this line with more emphasis, in Buffalo he slurrs, "Well I'm going, going, going away baby, and I wont...". Elvis slows the band down and whispers, "I said see, see see rider" causing the crowd to scream. "Take your time baby" Elvis says to the band before building the finale.
Without a pause PROUD MARY starts. Elvis sings, "Left a good home in the city" instead of "Left a good Job in the city". The first drum roll and Elvis wiggles his arse causing this crowd to go bezerk. Very similar the April 18, 1972 version seen in On Tour but with just that much more edge to it, Proud Mary rocks tonight.
No thank you yet, Elvis launches into NEVER BEEN TO SPAIN straight away. The first two versus are clearly sung like that heard back in January & February 1972, but the louder part of the song is typical for April & June 1972. I always felt this song was well suited to Elvis. Ronnie Tutt lives up to his reputation as being hard working which comes across nicely, even for an audience recording. "You're a beautiful audience" Unfortunately much of Elvis' dialogue is lost in the screams, but he mentions the title to YOU GAVE ME A MOUNTAIN which he then performs. Again a typical but powerful version for this period of time, the first verse is plagued with feedback, but unlike in later years, Elvis ignores the feedback and continues his singing. So far this concert, the audience is the quietest it has been.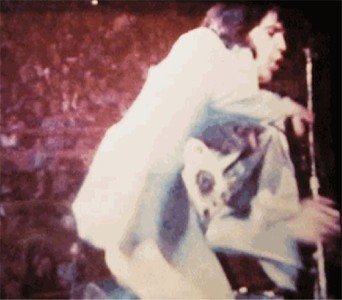 Again without dialogue, UNTIL IT'S TIME FOR YOU TO GO emerges from the applause. For some reason this song was like an invitation for the girls to rush the stage judging by the screams, however Elvis doesn't miss a beat, and sings quite a lovely version. Just before the last chorus, some feed back emerges but is quickly dissolved. It is at this point that James Burton adds some real pretty licks that I've not heard on other versions.
"Thank you. Thank you very much. You're a very good audience. Take it on". Jerry Scheff thumps out the introduction to POLK SALAD ANNIE which delights the crowd. One has the impression the girls know Elvis is about to shake his thing! With some quick beat drumming and heavy bass work, this version ranks very highly in the top ten for 1972. To my ears it sounds like the Sweet Inspirations repeat "Sock a little polk salad" instead of performing their usual ending".
Elvis takes an extended pause after this song. Again his dialogue is inaudible, but he starts LOVE ME much to the delight of the crowd. By now Elvis' live version had lost that edge it had in 1970, but he still continued to perform great versions of Love Me despite a softer tempo.
"Well it's one for the money" introduces BLUE SUEDE SHOES causing the audience to clap along. Elvis has a lot of fun with this, but unfortunately James Burton had dropped the instrumental and the song becomes all too short.
ALL SHOOK UP is plagued by microphone feedback and a little mumbling from Elvis. A typical 51 second version.
TEDDY BEAR has a false start with Elvis saying, "Hold it Glenn". The Teddy Bear-Don't Be Cruel medley continues as normal. DON'T BE CRUEL has no lines a fluffed or dropped. Very typical for April 1972, but nothing special. Right now there is an edit. Elvis becomes inaudible, but mentions something about "four times" so perhaps he has mentioned that there is a film crew on hand and that some songs may have to be performed more than once. Elvis continues, "One of my urrr, biggest ballads..." Elvis leaves a long silence before starting a the slow version of HOUND DOG. The crowd are quite reserved not knowing what to expect with this strange arrangement, but they soon go ballistic when Elvis picks up the pace.
"You aint never caught a rabbit, Frog! And you ain't no friend of mine". From the applause emerges A BIG HUNK OF LOVE in its new arrangement. Elvis seems quite involved in this song, and drives it along much faster than the Aloha version heard eight months later.
Unfortunately another obvious edit appears, and the piano introduction to I CAN'T STOP LOVING YOU is clipped. However, this version has been slowed downed significantly, but comes across with a more county flavor.
LOVE ME TENDER starts after yet another edit, and is audible only from the right channel which is somewhat annoying. Elvis casually sings this song, working the crowd more than the song. After just one minute and ten seconds Elvis closes the song.
SUSPICIOUS MINDS kicks in and the audience goes nuts. Ronnie's drums echo with great effect, and his many drum rolls indicate Elvis is really showing off his movements.
"Oh let our love survive" brings more screams from the audience. "You know honey, I'd never lie to you, mmm mmmmmmm" is sung instead of "no, not much". The drum rolls and screams at the end of Suspicious Minds give some indication to the excitement generated by Elvis' karate kicks as seen in Elvis on Tour.
Strangely there is yet another edit, and the sound becomes balanced, but I can't help to wonder if this may be a made up concert by some enterprising individual - especially since the band introductions have been removed.
AMERICAN TRILOGY has Elvis offer a committed performance, but the listener is subjected to the constant coughing and chatter amongst the audience members. "Thank you ladies and gentlemen", leads into a hardcore version of JOHNNY B. GOODE nothing like the rehearsal version heard over the opening credits of On Tour. This version rocks like the August 24, 1969 version! It is super fast with Elvis maintaining the outrageous speed.
Another edit before LAWDY MISS CLAWDY. This song was always good live, and one can imagine Elvis swinging back and forth with the beat "Down, down in misery" has Elvis sing these lyrics in his mock bass voice.
"Arrh, now that you've had a chance to see us, I'd like to....." the audience screams their brains out drowning Elvis yet again. FUNNY HOW TIME SLIPS AWAY is sung in a usual fashion, but James Burton adds some different sounding licks. Elvis sings every word, but sounds more committed to working the audience than he is to the song.
"A song from Blue Hawaii, ladies and gentlemen" introduces CAN'T HELP FALLING IN LOVE. The energy level of the audience raises yet again, and their reaction is not far from a live version of Hound Dog in 1956 - they sound really frantic! Unfortunately the closing riff is removed.
When I first received this tape I wondered how great it was going to be to listen to this concert considering it was an opening show, and one that the Addidge/Abel team were so impressed by Elvis' performance that they rushed back to the tour within four days to capture more excitement. But now I am a little skeptical that I actually have the real concert. As I mentioned before, there are plenty of edits, the sound balance sways, and the band introductions are missing.
I am very sure that the songs that follow the edits are from the April tour. So let's assume this is the real McCoy. The concert is full of energy. The crowd is wild and enthusiastic, and Elvis gets involved with them. He comes across in a very professional yet playful manner, but always committed to performing a great show. The sound quality ranks , at the most, 6/10. However, in the event you had the opportunity to get this tape or another concert you know is authentic, I would encourage you to take the authentic show until such time that it can be proved that this tape contains the real concert. I would be very interested to hear anyone's comments. You can contact me via the main web site e-mail address for this site webmaster@elvisconcerts.com.
Evan