Menu
Concerts
Reviews
Multimedia
Legal Information
Concerts Reviewed - 1971
71 Summer Festival
A Classic Bootleg review by Javilu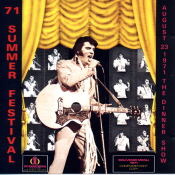 "Living from day to day, chasing the dream"
In a year with no multitracks available and very few soundboard recordings in circulation, very good to excellent audience recordings are to be treasured.
There were no movie projects in 1971; no live albums either.
What we do have is inconsistent studio sessions marred by Elvis eye problems, 2 Vegas seasons with an autopilot Elvis who was growing tired of Vegas and its routine, a great first Lake Tahoe season and a terrific tour in November.
While there are no soundboards available for the August/early September Vegas season, we have some excellent audience recordings, that show Elvis being focused, professional and in a good mood, although as mentioned his shows were shorter and with barely any dialog present.
Among these great audience recordings are "Trying To Get To Memphis", "Setting The Standard", "Las Vegas Stage Show" and "71 Summer Festival" volumes 1 and 2.
The August 23, 1971 Dinner show featured in "71 Summer Festival Vol. 1" and was released by the Chips label in 1995. It peaks under 49 minutes.
There are a couple of audible edits here and there but probably the concert didn't last a lot longer than the CD.
The cover artwork is simply a reproduction of the souvenir menu given at the International hotel showroom. You can see a reproduction of the inside of the menu in the inner 2 page booklet.
Elvis is not in his best voice during this concert: his voice sounds weak and thin at parts, like he's having a cold.
Being a Dinner Show, you can hear glasses and silverware noises at times during the concert that starts with the usual "That's All right" opener.
The sound is clear, very little hiss and the mix is good, although Elvis' voice is a little buried in the beginning.
"Proud Mary" is not rushed as it would be in 1972 and the great tempo makes it very enjoyable.
Still, Elvis is not at the height of his powers and "I Got A Woman / Amen" shows him lacking stamina at times. This is one of the few versions of "Amen" with no J.D. Sumner vocals in the end (he would join the TCB band along with The Stamps in November, 1971).
Still we don't get a word from Elvis as he launches "Sweet Caroline" followed by a standard "Polk Salad Annie".
The audience sounds very polite and contained until Elvis starts waking around and the yelling starts; you can tell there's some female interaction with Elvis until an edit comes along -perhaps tape running out- so we miss the first notes on the "Johnny B. Goode" intro.
"It's Impossible" is performed beautifully and is highlighted by the good sound of the strings; some different phrasing from Elvis in parts makes this one of the highlights of the concert.
Some 50s classics follow starting with "Love Me", a great version closer to the studio master than future throwaway renditions, though the tempo is a little faster than in previous engagements.
The "Blue Suede Shoes / Whole lotta shakin' Goin' On" medley is very good although short; "Heartbreak Hotel" and "Teddy Bear / Don't Be cruel" are average versions, with Elvis sounding specially uninterested in the second one.
After another edit on the tape we get the last part of Elvis' life story monolog followed by "Hound Dog" featuring a great James Burton solo.
A photo camera shooting can be heard during "Love Me Tender". It is a very poor version with Elvis barely mumbling a few words while kissing a few lucky women in the audience.
Elvis tries a little harder in "Suspicious Minds". Even though it clocks at almost 8 minutes, it still pales when compared with the previous year's versions.
The band introductions last for less than a minute and Elvis sounds dead serious on them, like a robot introducing the musicians.
After Ronnie Tutt's intro there's another edit on the tape that leads to the beautiful "I'm Leavin'", sadly missing the first few bars.
Another concert highlight is "Lawdy Miss Clawdy", having only Elvis singing the first verse with Charlie Hodge joining from the second one on.
"This is especially for you" whispers Elvis before finishing the concert with "Can't Help Falling in Love" as usual.
Elvis started getting tired of Vegas as early as 1971 and this concert is clear evidence of that fact.
Although it has a few dropouts here and there, the sound quality is above average for a 1971 concert and if you plan to have the best sounding concerts from this Vegas season, "71 Summer Festival" deserves a place in your shelf.
After all, it's not likely a soundboard from this season will appear anytime soon. But we can dream, can't we?
(c) Javilu - November 28, 2010
**Adobe Flash Player needs to be installed. Click
here
to install