Menu
Concerts
Reviews
Multimedia
Legal Information
Road Trip To Texas by Francesc Lopez

In July 2011, my wife and I decided to take a road trip from California, where we live, to Texas. There were several reasons why we wanted to take a road trip, and one of them was to visit the little towns where Elvis played during the fifties.
We visited many of these towns and due time constraints, we just went by others. It took us three weeks to do this when we thought that two would be more than enough. We stopped in some cities not related to Elvis to rest or to visit, since our trip was not only about Elvis, as above mentioned. It was an awesome trip and we hope to do many more.
July 19, 7:00 AM, the road trip begins! The first day, the objective was to get to Sedona, AZ and spend two nights there. For the record, Elvis didn't play there during the 50s; it was just one of those destinations for sightseeing and resting from the ten hour drive.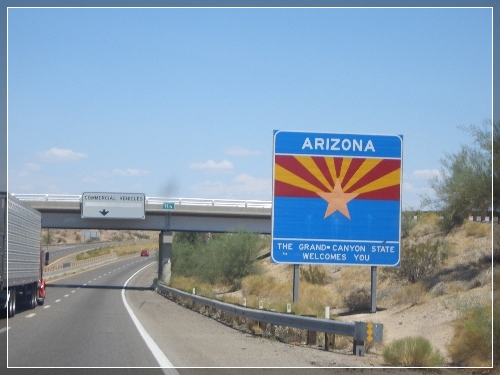 While in Sedona, we were reminded that Elvis filmed Stay Away Joe in Sedona, and also in a little town called Cottonwood. We drove out to Cottonwood and took a couple of photos of buildings that can be seen in the movie.
After a wonderful visit in Sedona, we headed to Amarillo, TX. But before getting to Texas, we needed to cross the rest of Arizona and the entire state of New Mexico. After visiting a meteor crater on the way, suffering through wild rain and lightning, witnessing a closed highway because of an accident, and driving for 10 hours, we arrived. As you can guess, we crossed the Texas border at dark.
Amarillo, TX.
Amarillo was the first Texan city where we were going to look for articles or ads for a couple of dates that we didn't have information for on our website: June 2, 1955 and October 13, 1955. The next day we hit the Public Library, but we didn't find any mention of the June 2, 1955 concert. For the October 13, 1955 concert, we found a little article about Wanda Jackson singing at the same show as Elvis and an ad promoting the concert.
In Amarillo, Elvis performed at the Municipal Auditorium, which was built in 1923. It was demolished in 19681, but at least we were able to snap a couple of photos of the Civic Center where Elvis performed twice during the 70s.
Then we headed south to Lubbock on US Highway 27 - around 2 hours of driving through the Texas countryside.
Lubbock, TX.
We had a lot of fun in Lubbock talking with some ladies who worked at the Library. Elvis played at the Cotton Club on three occasions. The ladies at the Library knew of the building, but they were not sure of its location, nor if it was still standing. After some phone calls, they had an address, and gave detailed instructions. Before leaving town, we visited the Fair Park Coliseum where Elvis played in 1955 and 1956.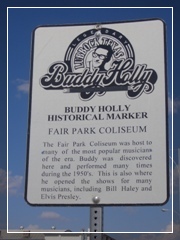 The Fair Park Coliseum was totally deserted, and the adjacent streets were closed but we were able to walk there and take some photos of the place. This is where Buddy Holly's group, called "Buddy and Bob" at the time, opened for Elvis on February 13, 1955.
Elvis also performed at the Johnson-Connelley Pontiac dealership. The dealership is long gone and it is now a vacant lot at Q. Ave and Main St. in Lubbock.
The Cotton Club, located at 6410 E. US Highway 84 outside of Lubbock. At the time Elvis performed there, the sale of alcohol was restricted in Lubbock and many other places in the south. Alcohol could only be sold if it was served with a meal. The Cotton Club got around this because it was located just outside the city limits. The Cotton Club saw many legends on its stage like Elvis Presley, Fats Domino, Little Richard, Buddy Holly and many more. The building burned down in the early 60's and was rebuilt in 1978. There have been different tenants, including a strip club and an adult bookstore. In 2009, The Cotton Club opened its doors again for a concert with the Funky Luck and The Astronauts.2
The next destination was Odessa, 2 hours and 30 minutes southwest of Lubbock. While having dinner in Lamesa, TX, we realized that we needed to change plans since the public libraries in Odessa and Midland were closed on Saturday, but not the ones in Sweetwater and Abilene. We decided to go to Sweetwater and leave Midland and Odessa for the trip back to California. So from Lamesa we traveled another 2 hours and some 112 miles.
Sweetwater, TX.
We arrived late at night, and we had so much trouble finding a decent hotel. Apparently, there were several weddings going on, and the personnel fighting fires in the area were all lodged in Sweetwater. We were told at a couple hotels that there were no rooms left, but we finally found one for a great rate, and it was clean and quiet.
The next day we visited the Public Library, where we found some ads from the Sweetwater Reporter. Elvis played two concerts there on June 9, 1955 and December 16, 1955. The first concert was scheduled for June 8, 1955, but it was cancelled and re-scheduled for the next day because of bad weather. While we were at the Public Library, the librarian told us she had a friend that saw Elvis in concert in the 70's, so she called her. The friend came right down to the library to show us a large photo of Elvis at a performance from the 50's. She had not been at the event - the photo was a gift from a friend - so she was not certain of the location. The photo showed Elvis playing the piano while sitting on a wooden soft drink crate (not Coca Cola). We were impressed that she would come down like that just to chat about Elvis! Soon we left to find the Municipal Auditorium.
The Municipal Auditorium is an 800-seat performing arts center that was built in 1926-1927. Audiences here have experienced the brilliance of Fred and Adele Astaire, the Ziegfeld Follies, John Philip Sousa, tent showman Harley Sadler, Sir Harry Lauder, and Broadway touring companies from such early productions as Seventh Heaven, The Bohemian Girl, Rita Rita, The Rain Maker, and Carmen. Later, regional audiences enjoyed such musical talents as Eddie Arnold, Roy Acuff, and Jerry Lee Lewis, besides Elvis Presley. Since 1982, the Municipal Auditorium has gone through to several renovations.3
After taking photos of the auditorium, we headed for Abilene, which was less than an hour from Sweetwater via US Highway 20.
Abilene, TX.
There's not much to explain about our time in Abilene. We already had some of the ads and information except for the May 30, 1955 concert. Even though the upcoming concert was mentioned in the Billboard magazine on May 28, 1955, we found absolutely nothing for that date in the library archives. During the fifties, Elvis always played at the Fair Park Auditorium when he performed in Abilene. That auditorium has been demolished. Our next stop would be Stephenville, two hours southeast of Abilene.
---
1 According to Scotty Moore Official website
2 According to Lubbock Avalanche Online: Return of the Cotton Club (October 29, 2009)
3 According to Jim Wortham Memorial Fund