Menu
Concerts
Reviews
Multimedia
Legal Information
Songs and Tours Reviewed
Elvis 'It's Midnight' by Geoffrey Mc Donnell (Australia)
It's Midnight was sung often 'on tour' in September/October 1974, but unfortunately show reviews I have do not reveal whether It's Midnight was performed at each show. Although it seems VERY LIKELY that 'It's Midnight' was performed once in each different city but for example where their was an A/S and E/S's performed on the same day i.e. Indianapolis and Dayton , 'It's Midnight' was only performed at the Afternoon Show's. It seems that 'It's Midnight' was performed for the first 6 shows this tour in a row, but not every night in the same city after that.-therefore I can only comment on the performances that I know of, however it appears that later on In Lake Tahoe in October it may well have been performed at every show this short season.
The same goes for the first 1975 Spring tour, usually performed in each different city and where there are 2 shows on the same day-usually just at the A/S. In LasVegas March 75' season I do know of 3 shows where 'It's Midnight' was NOT performed.
Tour #12 1974 It's Midnight versions:-
College Park 27.9.74
somewhat desperate version, but well sung concert highlight with a strong ending!.
College Park 28.9.74
average version-unmemorable 'Oh Lord God and I Miss You'(FORT BAXTER 1996 release CD)
Detroit 29.9.74
some words missed out-'play it','It's Midnight yeah and I miss you'"oh yeah I miss you" an improvement upon the College Park version.
South Bend 30.9.74*
after a ripper of a version of 'Blue Suede Shoes' Elvis announces that 'Promised Land' is one side of his single- It's Midnight the other side then he performs a very well sung version 'Oh God Bless Midnight', 'It's Midnight Baby','Oh God I miss you'. Great Version and the BEST this tour so far.
Indianapolis 5.10.74 A/S
rushed average version.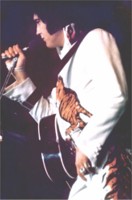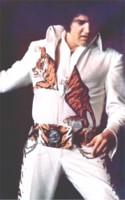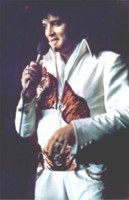 October 5, 1974, Indianapolis, IN.
Dayton 6.10.74 A/S
"Yeah Lord and I miss You"-powerful version throughout 'OH I MISS YOU'.
Lake Tahoe 13.10.74 M/S
introduced by Elvis as a slow song-great version 'Oh I miss You'
N.B. Almost certainly sung at every one of these 8 Lake Tahoe shows.
I can also CONFIRM that 'It's Midnight' was performed at the 1st,2nd,7th,8th and 9th of October shows as well. Indeed in the Abilene reporter/news Jim Conley reported that early on in the show Elvis started heating up the atmosphere with his performance highlight of 'It's Midnight'.
Las Vegas March 1975 season versions:-sung this time AFTER 'Big Boss Man'.
18.3.75 O/S*
nice and slow menacing version.(released on CD as top acts in Vegas Vol#5)
NOTE although I haven't heard all these versions it was in all probability performed at the shows between 19th and 20th March as well as at the shows performed on 23rd and 24th March 1975.
21.3.75 D/S
rushed version but well sung, strong version 'LORD God I miss you-yeah'.
21.3.75 M/S
'Oh how I miss you-I MISS YOU'-good version.
22.3.75 D/S
feverish version 'Oh how I miss you'.
22.3.75 M/S*
Excellent Version! (listen to the fort Baxter CD release) Early on Elvis shouts 'play it James' and ends with the now famous dramatic line: "GOOD GOD I MISS YOU" Elvis is 'firing' on all cylinders during this version and it's the soundtrack to the distributed so-called 20th March Video footage. As Billy Smith said in his book Elvis was back in great form in Las Vegas in early 75' and as the show proves turning out some 'incredible performances!'. This show is thoroughly recommended for the QUALITY as well as 'rare' songs sung.
25.3.75 D/S
shouts 'play it' briefly interrupted as Elvis talks.
25.3.75 M/S*
Jokes it's been out 2 days-really 6 months! Shouts 'play it James' 'HEY' to the band commanding performance great orchestral backing(and released on CD as 'Top acts in Vegas'Vol #1)
26.3.75 D/S
mentions Ron Tutt at the start of the song, poorer version as Elvis talks during the song,' Good Lord I Miss You'. - fine ending.
26.3.75 M/S*
False start and some talking during the song, but powerful and shouts to the band 'play it James' during the songs climax. Tenderly sung version.
27.3.75 D/S
heavy drumming and Elvis urges the song on to a 'Good God I miss You' ending.
27.3.75 M/S
slightly faster tempo urged on by Elvis 'Good Lord I Miss You' end.
28.3.75 D/S
nice piano sound, a few words mixed up- a Dramatic version.
28.3.75 M/S
Elvis mentions that you can listen to the drummer break his drums! Talks during the song making a bit more 'casual' version.
29.3.75 D/S
talks during the song and rushed.
29.3.75 M/S
Urgent'Good God I Miss You'.
30.3.75 D/S
not performed here 'Love Me Tender' instead.
30.3.75 M/S
beautiful slow version sung tenderly by Elvis' Good Lord I Miss You'.
31.3.75 D/S
powerful drumming somewhat desperate version, good ending.
31.3.75 M/S
not performed here 'You Don't Have to Say You Love Me' instead.
1.4.75 D/S
not performed here 'The Wonder of You' instead.
1.4.75 M/S*
3 false starts to this Excellent Version 'Gonna be gone from Vegas, about to'.' Good God I Miss You'. version.
Tour #13- sung early in the tour, Tour#14-NOT sung, Tour #15-sung once.
Macon 24.4.75
average version with strong ending(boot CD released)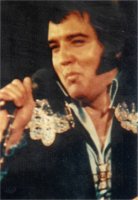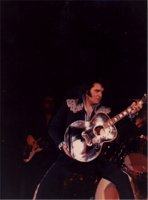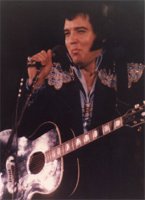 April 24, 1975 (8:30 pm) Macon, GA.
Jacksonville 25.4.75
(as released on Vicky label as 'damm good show') Average version ,but fine urgent ending from Elvis. Kathy's vocal good.'Yeah I miss you,oh I do...ah aaah!.
Tampa 26.4.75 A/S
similar to Jacksonville version-well sung
It's Midnight would be highly likely performed at the Lakeland A/S on 27.4.75, but later in this tour from Atlanta onwards it's missed out-so it's starting to get performed less often now.
Asheville 23.7.75
"Ladies and Gentlemen theirs a fellow who lives here in Asheville who wrote a song of mine, um one of my favorite songs I've recorded -his name is Billy Ed Wheeler-he lives here, he wrote a song called 'It's Midnight' I'd like to call that for you.'Ah but It's Midnight' Lord but It's Midnight', 'you know sometimes I miss you',' Lord I Miss you yeeaahaah!' VERY strong ending.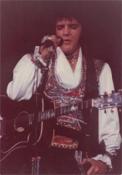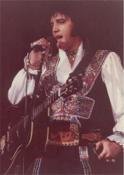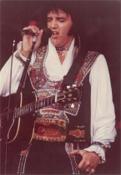 July 23, 1975. Ashville, NC.
Interestingly after time off work when Elvis returned to Las Vegas in December 1975 he included 'It's Midnight' during his Opening night show.
2.12.75 O/S*

sad brooding version with powerful drumming and an Excellent version of 'Good God I Miss You'(released on CD as 'Seasons Greeting from Elvis')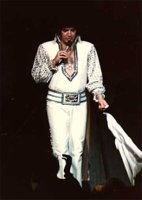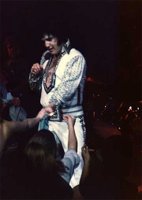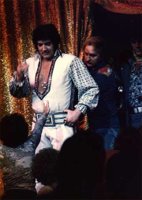 December 2, 1975 OS. Las Vegas, NV.
*recommended versions to listen to, performed in different ways to a very high standard. Obviously dated footage from Las Vegas 19,20th and 27th March 75' as well as a brief bit from 19.8.74 is thoroughly recommended as good Midnight viewing!. Last versions at Lake Tahoe May 1976. Surprise, Surprise as at Elvis's varied and good season of songs sung-he included 'It's Midnight' at 2 shows.
6.5.76 10pm show
After Hound Dog Elvis says "lets do It's Midnight"," Give me the chords for it" and leads into a false start .Then he sings well during a pretty slow version "Lord I Miss You-Oh I Miss You"
7.5.76 D/S
It's a searching version ,well sung and filled with depression and very good. Elvis remembered all the lyrics and I believe this is the LAST time he performed it.
Elvis mentioned that Billy Edd Wheeler(giving him due credit for the LYRICS) was from Asheville, North Carolina- but really Elvis is incorrect as he was born in Whitesville, West Virginia and raised in the mining town of Highcoal. However as Billy 'grew up' in Coal Mining camps and traveled around applying himself to many jobs such as Navy Pilot, College instructor, Music executive as well as simply a songwriter and playwright indeed Billy couldn't bear to think how empty his life would been without his Guitar having NOTABLE early success with 'COAL TATTOO' and a lyric reminiscent of 'It's Midnight'- ''Oh this traveling and loving I hate' a protégé of Leiber & Stroller who also produced his Earliest records. Remember Billy Edd Wheeler as ONLY 5 years after 'It's Midnight' came the HUGE success of song and later film of his self penned 'HIT' for Kenny Rogers #1 "Coward Of The County". Jerry Chestnut's Contribution seems less memorable as (although Elvis selected the Songs) He's responsible for 'WOMAN WITHOUT LOVE','NEVER AGAIN','LOVE COMING DOWN' a 'specialist' in somewhat Mawkish songs! - Including his brilliant, but sad and moving Gospel song 'THE WONDERS YOU PERFORM'
After listening to well over 3 hours of Elvis's versions of 'Its Midnight' and having been 'privileged' along with you 'lucky' Others to sit next to Elvis in the 'studio' on 16/17th August 1974 (THANKS to Diamond Anniversary Editions best ever release!) One is left refreshed with Elvis's TOP FORM rehearsing in 1974, the 'Jokes', the care, The Fun and such obvious 'JOY' Elvis had rehearsing the likes of 'If You Love Me (Let me Know) - as he Hums and quietly moans 'Oh Yeah! 'ROCKIN' with 'DOWN IN THE ALLEY','PROMISED LAND' and a 'Dynamite' 'PROUD MARY' and loving you with 'THE FIRST TIME EVER I SAW YOUR FACE','YOUR LOVES BEEN A LONG TIME COMING' and 'THE TWELFTH OF NEVER'. Thanks!- DAE for presenting such a CLASSY product including a Much less 'flat' and clearer mixed 19.8.74 Opening Show. The Vegas Audience are Guilty of substituting Elvis's planned version of THE TWELFTH OF NEVER by screaming out requests for LOVE ME TENDER. A song Similar to the TWELFTH in message/effect but a missed opportunity Here-thank GOD the Rehearsals survived-even if it was on one of the Brand of cassette tapes that I stopped using in the 70's due to (in UK.) Poor quality!!! We are left in AWE of the talent both of Elvis and all others in the 'studio' - (with the Exception of VOICE who Really as a group seem JUST fair!) and For certain Many Words Describe Elvis's performance of 'IT'S MIDNIGHT' with it's Banal self Doubting start, it's dispair, the ache, the longing, the lust, the hurt, the Regret, the loss, the trying to forget an honest song filled with PASSION Which as a love Ballad Elvis excelled in as later in his career almost After coming out of the Army with 'IT'S NOW OR NEVER' to 'WAY DOWN' it's Elvis's SUBTLE way of interpreting a song his voice that changes easily Through the gears and his vocal control his 'Harmony' vocal in this song That is so unique so PRESLEY and as Elvis was trying to Forget Pricilla In 73/74 and had the 'new' love of Linda Thompson doesn't this song ring TRUE especially as on 17th August preceding his Las Vegas season Elvis Was running through 'It's midnight' he also chose 'SHE'S NOT YOU' from March 19th 1961!
It's slow Guitar and Organ start showing Elvis's voice Lonely/Bare before the voices and Drums Kick in, the Piano of Glen D. Hardin being featured more in live versions. The Strings add to the emotionally 'explosive' atmosphere like a THUNDERSTORM tugging on the 'heart' strings and eventually Elvis's voice , The seductive voices and closing Guitar riff's and beat have YOU the Listener captivated and totally believing Elvis's sincere Performance. and feels like just after a heavy 'storm' has passed and at the end the sun has come out briefly shinning between the showers!, with an almost Heavenly/Gospel voiced ending!. Isn't this song the story of Elvis's life - just like as he'd introduce 'FAIRYTALE'. Just look at Pages 29-33 in Mr. Tunzi's EXCELLENT book around Elvis's SOUTH BEND 1.10.74 performance of 'IT'S MIDNIGHT' if ever a book BLED on each page This one does as in SOUTH BEND we See Elvis from all sides GOOD, BAD but Beautiful in 1974!Wishing I could hear THIS soundboard Tape! The loss Of his Mum, Pricilla and trying so hard and failing to live up to his 'Image' because he was Human. His 'struggle' to be the Man he tried to be It's all SO EVIDENT in the best set of Photos published from one Concert YET! In 'ENTER THE DRAGON' Sure starting with 'OLD SHEP' Elvis may have Had a tendency for choosing sad material and maybe sometimes overstating 'MY BOY' 'live' but then he sang these songs so distinctively with such STYLE .......Well It's getting late so must close here and GOOD GOD ELVIS WE ALL MISS YOU!