Menu
Concerts
Reviews
Multimedia
Legal Information
U.S.A. TRAVEL - 2010 by Carlito Belprimo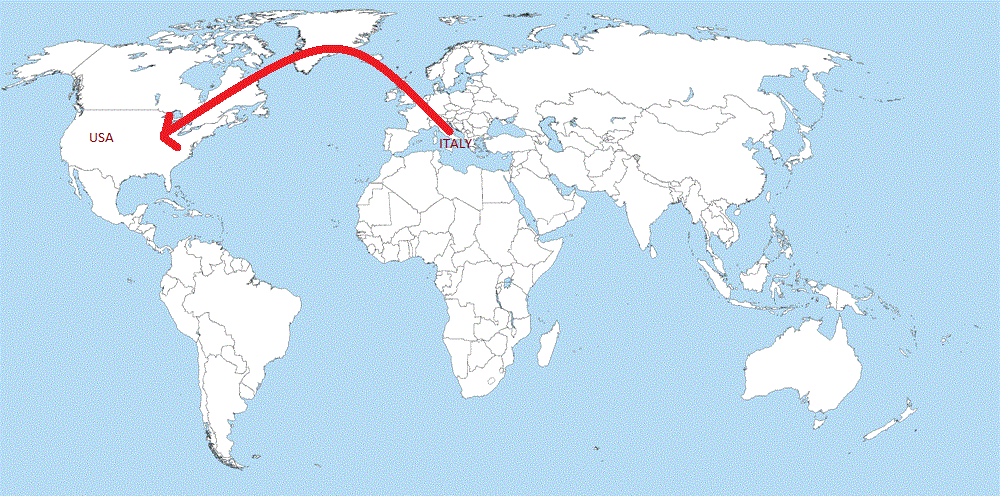 In June 2010, for the first time in my life I was able to go to the USA and I must say that for me it was the fulfillment of a dream that lasted at least 20 years.
I had planned the trip so that in addition to visiting places of natural and cultural interest I would have had the opportunity to visit some places associated with the life of Elvis Presley. In this article I will discuss only a few of the places where Elvis performed during the 70's and I had the good fortune and sometimes the audacity to visit and photograph.
After a 10 hour flight from Italy, I landed in Detroit and then set off to Memphis, what we Elvis fans consider the promised land! Leased a car, I headed to Graceland where thanks to my VIP ticket, we (me and my wife) spent the whole day having access to a special section where they were exposed some costumes not present in the normal tour. The setting was very intimate and I could photograph the costumes without limitations really close, without the presence of protective glasses that could have annoying reflections in the photos. Of course, the use of flash was denied so I used my Nikon D3000 without a flash and I have to say that the pictures came out really good.
The next day I went to visit the SUN records and after a long search I headed toward the Mid-South Coliseum that I was able to photograph from outside, as it was closed and had all the air of being in disuse for a long time already. Needless to describe the emotion of those moments during which I tried to imagine the excitement of being on the verge of an Elvis concert, maybe in 1974. But in 1974 I was only 2 years old and lived thousands of miles away.
The next stop on my tour that had to do with Elvis, was the city of Phoenix, AZ. from which then would have moved up to the North to visit the Grand Canyon, Monument Valley, Antelope Canyon and Zion Park. We took the flight that goes from Memphis to Phoenix, rented a car and because of that, I was able to put myself in search of the Veterans Memorial Coliseum where Elvis performed in 1970 and 1973. Car The car built-in browser does not always bring you to the goal you wanted, in fact took us to the Veterans Memorial Cemetery .... far away from the Coliseum. However in the end I managed to get to my goal and here I came across an experience that still makes me smile and leaves me surprised.
Arriving at the huge parking lot of the V.M.C. of course it was empty, I stopped to take some pictures of the building. Suddenly a car with 2 employants came near me and stopped to ask me what I was doing there. It was one man about 55-60 years old and another one very young. I told them the usual story about to be an Elvis fan and that I simply wanted to take some photo of the building where Elvis performed some concerts during the 70's and if it was possible, I would have liked to take some photos inside the Arena. The oldest man told me "oh yes Elvis was cool, my wife seen him in concert in the 70's, ...." And soon after telling me that, he told me that it was impossible to visit the inside because it was all closed, but he also suggested to try the next day because some employees would be at work in the offices at the first floor of the building.
The next day, I was back again and it was true, the office was open, so I just simply entered and searched for some employee to explain the purpose of my visit. I met with a lady in one room, she was working behind a desk, I told her the usual story, "I am an Elvis fan from Italy, and because Elvis performed in the Coliseum in the 70's (she didn't even know this!.) It would be a nice gesture to allow me inside the arena to take some photos?". It was morning I remember.
She called by the interphone to her boss and soon they agreed to my request. So I went inside the arena to take some photo. The arena was immersed into the dark, there was only some light coming in from outside, but I didn't care, I was into the mythic Veterans Memorial Coliseum that I have seen many many times during the first minutes of TTWII movie and just this made me thrill. I was completely alone, nobody followed me or controlled me and this surprised me a lot. What about terrorism or things like so?....boh, maybe my "good boy face" convinced them to have no worries.
While I was inside snapping some photos even if all was very dark, suddenly the houselights start to turn on!.....they had been so kind to turn on the lights just for me! Just to give me the opportunity to snap good photos of the whole place and to enjoy my visit at the best! This gave me the chance to take many photos of the arena and to my big pleasure I could recognize it was not changed much from 1970. Once I finished my visit, I went back to the office where the lady I met before was to thank them for their kindness, so I left more than happy to go on with my travel. How I could forget to visit Tempe, Az near Phoenix I will never know. I simply forgot that Elvis performed there in 1977... shame on me!.
---