Menu
Concerts
Reviews
Multimedia
Legal Information
Home > Newspaper Articles > 1972 > November 12, 1972 (5:00 pm). San Bernardino, CA.
7,200 Enthralled as Elvis Sings, Struts, Strums Guitar
Proves He's Still A Star
by Henry Mendoza
The Sun
November 14, 1972

SAN BERNARDINO - Elvis Presley never gave the guys a chance. Las night, before an adoring audience of 7,200 in Swing Auditorium, he took over. He walked on stage with a bright red scarf around his neck, dressed in a black form-fitting jumpsuit literally sprinkled with gold sequins - and the women went wild.
For an hour he danced and sang, keeping complete control of the crowd as well as his own superb performance.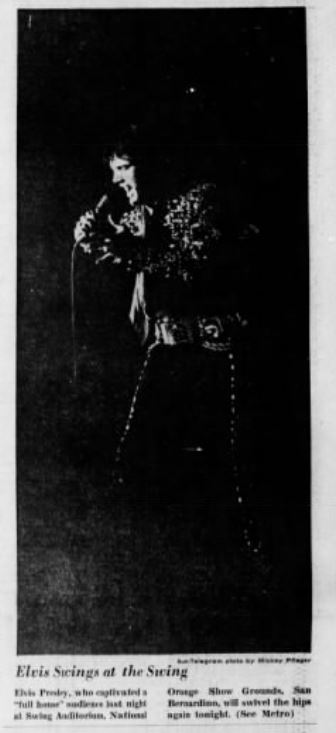 For some, it was like watching the best part of their album collection come alive when he sang hits like "Love Me Tender," "Hound Dog," "C.C. Rider," "Fever," "Blue Suede Shoes," "All Shook Up," "Let Me Be Your Teddy Bear," "Don't Be Cruel," "I Got A Woman," and more.
It was impossible for Presley to sing everybody's favorite. There are too many. But he must have sung most of them, because when he raced off stage at the end of the show there didn't seem to be any unsatisfied customers.
Presley is a superb singer. He is also a complete showman; he knows what to do with that talent. His voice is deep and clear, always exuding masculinity and capable of bursting with excitement at the change of a tone. The mastery he has over an audience is amazing.
At one point, he began tugging at his scarf, eventually loosening it. He moved to the left of he stage and threw it to the scrambling crowd.
Moments later he had another scarf, but he toyed with his one longer. Just as when he had thrown the first with each feint at the crowd, 7,200 bodies surged toward the scarf.
Twice he made suggestive comments by changing the lyrics to his songs. Most of the audience chuckled. The rest, judging from the sounds, seemed to feel pangs of hope then disappointment.
When he asked for the house lights near the end it wasn't much lighter than when thousands of tiny flashcubes popped as he struck an especially exciting chord - or pose.
And although it's been more than 15 years since he threw himself at the world with his famous gestures and gyrations, he has not forgotten them and the women haven't forgotten how to react.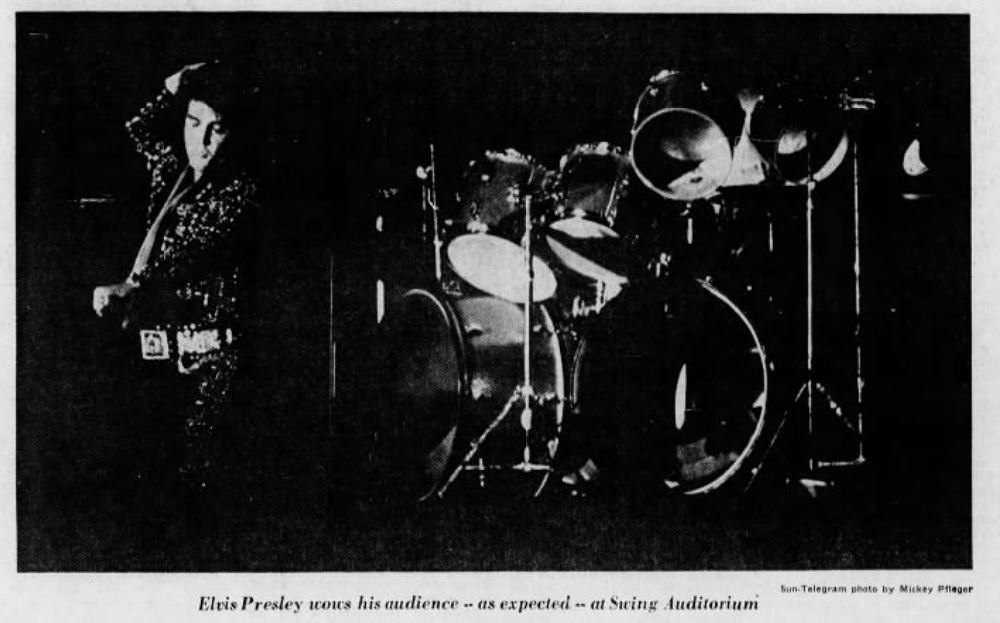 Although the crowd was of all ages, shapes and sizes, the reactions were identical. It was nothing to hear a tennage girl or an older woman shreik with delight at Elvis and his moves.
But every once in a while a woman old enough to be a grandmother would join in the shouting as if up to that point it had been everything she could do to contain herself.
One woman, probably in her late 40s, kept wondering if Elvis was ever going to sing "Love Me Tender." When he did, near the end of the show, from her swoons and sights it seemed she had lost 25 years.
The show was without fault. From the 20-piece band behind Presley to the 16-voice chorus, it was thoroughly enjoyable evening.
Comedian Jackie Kahane and a female vocal trio, the Sweet Inspirations, performed during the first half of the bill and did an excellent job of entertaining an audience that was there to see one man - Elvis Presley.
It was just like in the movies. Elvis was singing and moving and women were shrieking. He had the same deep, penetrating eyes and that smart smirk you see in the closeups.And those hips were swinging. For an hour last night, no other guy had a chance. Tonight's 8 p.m. show is sold-out
Courtesy of Archie Bald