Menu
Concerts
Reviews
Multimedia
Legal Information
CONCERT DATE: November 7, 1971 Louisvilla, KY.
Elvis Is Back!
And The Hall Rocks - Like 1956 All Over Again
by Bill Peterson
The Courier-Journal
November 8, 1971

"What ya got on your mind baby," Elvis says into the microphone, his eyes dropping toward Karen, the groupie from Chicago who claims she has followed him to every public appearance he's made in two years.
His hair falls over his eyes. That famous sneer passes across his face. His legs are apart. Karen is on her tiptoes waving her right hand, the one with the four Elvis rings on it.
"I would have brought more but they got too heavy to wear," she explained earlier. Her blouse with the genuine Elvis Presley autograph on the back, somewhat smudged with age, presses against a security guard protecting the Freedom Hall stage 15 feet away.
She jumps up and down, jack-in-the-box like, making it hard to read the slogans printed on her back: "This is Elvis Country" ... "Elvis P-o-w-e-r" ... "Elvis is King of Rock 'n' Roll" ... "We, Elvis fans would rather fight than switch"... "You don't need no grass. You don't need L.S.D. You can turn to Elvis Presley."
And that's what Karen was doing - turning on Elvis Presley. After all these years. Elvis still does it to them. They still scream at his name. They still reach for him, and pay $10 to see his face. Their hearts still stop when he pleads, "Love Me Tender, Love Me True."
A few minutes before, he had thrown a baby blue silk scarf - a scarf with genuine Elvis Presley perspiration on it - to a girl in a black jumpsuit in the front row. She hopped like a nervous frog, screaming at the top of her lungs, for three minutes.
Elvis didn't notice. He moved across the stage, cool and distant, singing:
"Are You" ... pause scream ... "Are you" ... pause, scream ... "Are you lonesome tonight" ... screams every where.
It was like 1956 all over again
The crowd of 18,550 - the largest and richest in the history of Louisville's Freedom Hall - started gathering at 12:15 pm. 45 muinutes before the doors to the hall opened, two hours and 15 minutes before the show would begin.
Their cars - hundreds of them bearing license plated from Ohio, North Carolina, West Virginia, indiana and Tennessee - clogged expressways.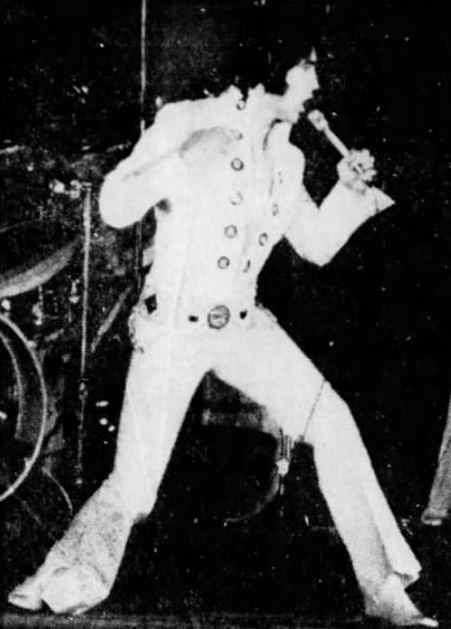 Their bodies, 50 to 75 deep, pressed against one another to gain entrance shivering in the brisk air. Their hands grasped precious $5, $7.50 and $10 tickets - the show was a sellout three weeks ago. Hucksters hustled about selling "official programs not available inside," containing 10 pages of genuine pictures of Elvis for $2 and "I love Elvis" pennants for $1.50.
It had been 15 years since Elvis performed in Louisville. ("I played Louisville back in 1923," he joked. "Back when Jenny and me were in high school.")
That was before The Beatles, Bob Dylan and acid rock and a lot of other things and Elvis was the biggest thing the music world had ever seen.
His greasy black hair was sleeked back in a ducktail. Parents said he was vulgar. Evil even. Ed Sullivan considered his body movement so suggestive he showed only the top half of his torso w hen he appeared on his Sunday night TV show.
Then for 13 years he disappeared except for an endless string of movies - Jailhouse Rock, Harum Scarum, Double Trouble and a bunch more. "You mean they actually pay money to go see a boy play a guitar?" he said in one.
Two years ago he resurfaced. And yesterday he was on the third stop of a 13-city personal appearance tour.
The faithful came from miles around as if they had spent all these years beside their $18.95 transistor radios and phonographs just waiting for him.
Many were older now, their bodies no longer lean and hungry. But the women still came in their seductive best. Heavy eye shadow. Fat thights stuffed into hot pants - surely the biggest display of hot pants in Louisville history.
Here and there was a grandmother. "Guess where I'm going Sunday," Mrs. Jean Hannon, 56, told her husband, a truck driver, last week. "I'm going to be screaming and pulling my hair out for Elvis."
Two of her daughters from San Jose, Calif. joined her for the day. A third daughter, Mrs. Suzie Pierce, brought her husband with her. "When he asked me to marry him, he promised to take me to all the Elvis movies and he has," she said.
"I just love Elvis," she added before the show started. "If I die before he gets here I want my corpse left right here."
What made them come? "Everyone wanted to come," said Gilda Barrett, 17, of Borden, Ind. "Yes, I think he's all sex. Especially when he sings his slow songs."
Ninety minutes later, Elvis was on stage. Spotlights popped on and off from every corner of Freedom Hall. He was dressed all in white, with a baby blue silk scarf tucked under his highneck shirt with plunged open to his stomach.
He removed a white cape with baby blue lining and picked up a black wooden guitar. Women screamed as he leaned into the microphone and sang, "Well, that's all right, mamam, that's all right for you."
That was from "That's All Right, Mama," his first record ever. His voice was strong, almost mean, just like the old days. The place was coming apart.
Nothing has changed. Not the songs - Love Me Tender, Blue Suede Shoes, Heartbreak Hotel. Hounddog, Fools Rush In were all there. Not the screams.
Not the famous pelvis. Not the left leg. There it was, shaking and moving, ramming back and forth with the music. Making women swoon, fathers worry about their daughters.
It dipped, it shook, it throbbed, it pumped, it gyrated. The show was good. But it didn't really matter what or how Elvis sang: his presence had made it an event.
Elvis was back, and as Karen, the Chicago groupie, put it: "We're just crazy about him."
Courtesy of Archie Bald