Menu
Concerts
Reviews
Multimedia
Legal Information
CONCERT DATE: September 11 1970 (8:30 pm). Detroit MI.
Elvis Rocks And 17,000 Roar
By Tom DeLisle
Detroit News
September 12, 1970

Elvis Presley shook it up in Detroit Friday night. The demigod of rock 'n' roll and nearly 17,000 screaming, jumping and almost hysterical fans turned Olympia Stadium into a madhouse of excitement.
Presley took the stage at 9:35 p.m. to a tumultuous response from an audience that completely lit up the large stadium with the glow from crackling flashbulbs.
His show ran 45 minutes. Presley sang, joked and shook. And the audience - mostly children of the '50s - never stopped screaming.
A teary-eyed young girl moaned after he left the stage: "He's too much. He's too much."
Elvis had arrived in Detroit late Friday with the mystery, intringue and excitement of a top-secret presidential visit.
The aura around him, personified by his presence and created by his management, can knock you over.
COL. TOM PARKER, his manager, operates like it was 1956 and the fans are waiting to tear his boy apart. There are guards, secrecy, and more guards.
But when you see Elvis, and girls' reaction to him, you can understand and why. Evidently, 1956 wasn't all that long ago.
Presley emerged from his limousine at 4:40 p.m. and moved toward the service entrance of the Detroit Hilton Hotel, where his troupe had rented 75 rooms. He was dark black hair, black outfit with blue shirt and that cool, cool, almost laughing, almost sullen look behind silver-rimmed blue shades.
About 40 spectators - mostly girls in their early 20s from the nearby Auto club office - surged around him. First there were squeals, then pushing. Elvis' guards tried to clear the way. He stopped. Autographs.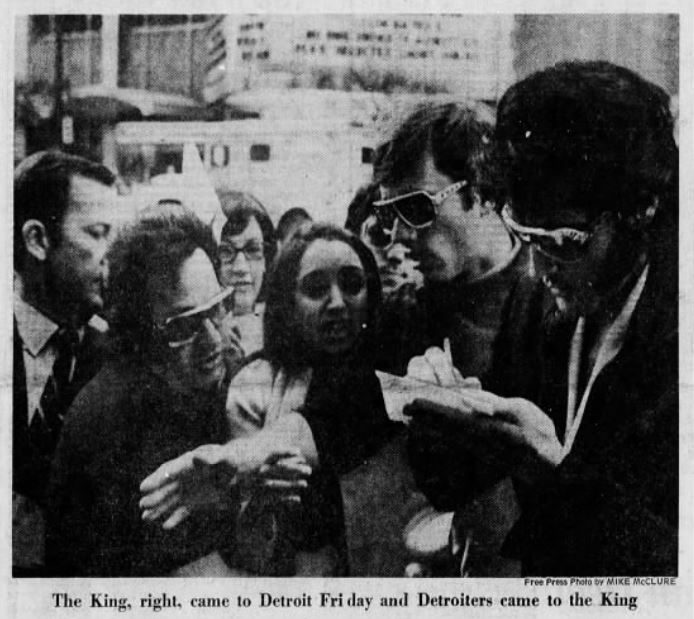 Elvis didn't say anything to the girls. He didn't have to. A sleepy look, the half smile and a well-practiced lip twitch did the trick. Not bad for a 35-year-old dude.
The Presley team, a slick assortment of bodyguards and front men, took over the Hilton about 10:30 a.m. Friday when first five taxis loaded with Elvis people arrived.
They prowled the hotel and greeted other Elvis people then letf at 2:15 p.m. to meet Elvis and his chartered jet at Metro Airport.
A Hilton clerk said the crew - including band members and enough hangers-on to staff a medium sized street-riot - rented the 75 rooms on the upper two floors of the hotel.
THE ELVIS people - especially Parker - are forceful but restrained, aloof but charming. One man, obviously a bodyguard, was asked before Elvis' arrival if he was with the Presley traveling troupe.
"Why?" he said gruffly. "Uh, we'd like to get a picture of him." I can't do anything for you," he said as he walked away.
The Presley mania touches even those remotely connected with his arrival. His group made reservations at all of Detroit's major hotels, apparently to keep his real resting spot a secret.
A motel in Mount Clemens had been designated last month to be the spot. A man at the desk of the place, who said: "I'm just here, that's all ... I can't say anything more or who I am," denied Friday Elvis would be using the establishment.
Elvis' arrival even sparked a new contract agreement between Local 705 of the Hotel Restaurant and Bar Employes union at Olympia Friday afternoon.
The union had threatened to picket the performance. Their new four-year pact ended the threat to stop the show. That, after all, would be no way to treat a King.
Courtesy of The Detroit Public Library