Menu
Concerts
Reviews
Multimedia
Legal Information
Home > Live CDs Analyzed > The Power of Zhazam! vs One Night Only!
The Power of Zhazam! vs One Night Only!
by Henryk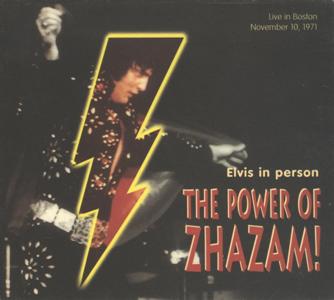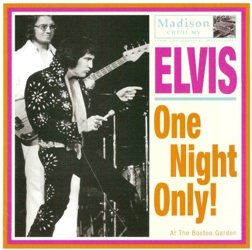 The Power of Zhazam! (Captain Marvel, Jr. Records) [November 10, 1971.]
a soundboard recording of pretty poor quality (an x-generation copy of the master tape must have been used);
27 tracks in total, with tracks 2-25 being the Boston concert;
the non-show cuts are two spoken-word tracks and a home recording of "I'm So Lonesome I Could Cry" taped in November 1973 at Sam Thompson's house;
"How Great Thou Art" and "Introductions" are incomplete;
"Closing Vamp" is complete and followed by the (hardly audible) announcement that "Elvis Has Left The Building";
presented as a three panel digipak featuring several photographs from the show plus one from the Jaycee Awards acceptance ceremony;
Running time: 60 min. 49 sec.
Running time (the concert): 57 min. 22 sec.
One Night Only! At The Boston Garden [November 10, 1971.]
amazingly improved sound quality when compared to "The Power Of Zhazam!" (still not perfect, though), coming from the first-generation master tape;
24 tracks, with "How Great Thou Art" and "Introductions" still incomplete;
the fade-in prior to "Introduction" and the fade-out after "Closing Vamp" run for a couple of seconds longer; also "How Great Thou Art" fades out a little later here*, hence the slightly extended running time of the show;
great design and artwork (a 16-page booklet, with extensive liner notes and a great deal of excellent concert and concert related photographs);
the cover is a tribute to Elvis's then-current, 1971 single "I'm Leavin'."
Running time: 57 min. 48 sec.
General comments:
it's the earliest non-Vegas soundboard recording released by either a bootlegger or the FTD;
it's the only available 1971 tour soundboard (however rumor has it Bruce Jackson does have more November '71 concert soundboard tapes in his private collection);
a very strong performance by Elvis, though (reportedly) still among the weakest of the tour;
Elvis is in a playful mood, altering song lyrics ("For my darling I love you / Cause you take the pill") and joking with the band ("the Tony Bruno Orchestra, ladies and gentlemen. [...] Are you guys in Mafia? Tony Bruno? Don't kid me with that name.");
the show has recently been issued by FTD under the title "Elvis As Recorded At Boston Garden '71," is presented in a standard digipak and includes an 8-page booklet.
*the slight difference in "How Great Thou Art" goes as follows:
| | |
| --- | --- |
| "The Power Of Zhazam!" | "[...] how great thou art, oh, how great th... (fades out)" |
| "One Night Only!" | "[...] how great thou art, oh, how great thou art... (fades out)" |