Menu
Concerts
Reviews
Multimedia
Legal Information
The Final Performances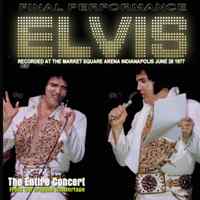 Recorded live at the Market Square Arena
June 26, 1977 Evening Show. Indianapolis, IN.
Tracklisting
Recording:
Audience
Highlights:
Fairytale, You Gave Me A Mountain, Its Now Or Never, Release Me, I Cant Stop Lovin' You, Bridge Over Troubled Water, Early Morning Rain, I Really Don't Want To Know & Hurt. Very good show!!
Notes:
See "
Adios
", "
The Last Show
", "
The Last Live Session
", "
The Final Farewell
" and "
The Last Farewell
" in our CD section.
Sound:

Contents:

Covers:
[front]
[back]