Menu
Concerts
Reviews
Multimedia
Legal Information
Midsouth Mania - The Missing Memphis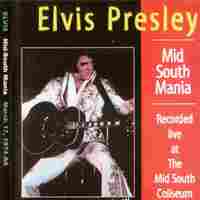 Recorded live at the Midsouth Coliseum
March 17, 1974 Afternoon Show. Memphis, TN.
Tracklisting
Recording:
Audience
Highlights:
Tryin' To Get To you, Steamroller Blues, Heartbreak Hotel, Polk Salad Annie, Why Me Lord, Help Me & An American trilogy
Notes:
See "
The Alternative Memphis
" and "
Hometown Memphis
" in our CD section.
Sound:

Contents:

Covers:
[front]
, DVD Cover Style.