Menu
Concerts
Reviews
Multimedia
Legal Information
Livestock Live 74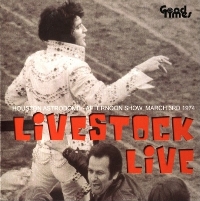 Recorded live at the Astrodome
March 3, 1974 Afternoon Show. Houston, TX.
Tracklisting
Recording:
Audience
Highlights:
Tryin' to Get to You, Fever, Polk Salad Annie, Why Me Lord, Suspicious Minds, How Great Thou Art (reprise) & Let Me Be There (reprise)
Notes:
See "
Event No.8
" in our CD section.
Sound:

Contents:

Covers:
[front]
[back]