Menu
Concerts
Reviews
Multimedia
Legal Information
Live In Seattle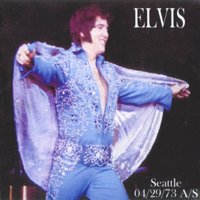 Recorded live at the Seattle Center Arena
April 29, 1973 Afternoon Show. Seattle, WA.
Tracklisting
Recording:
Audience
Highlights:
When My Blue Moon Turns To Gold Again (excerpt), Steamroller Blues, Heartbreak Hotel, Long Tall Sally-Whole Lotta Shakin', How Great Thou Art, I'm Leavin', Hound Dog & A Big Hunk O' Love. Whole show!!
Notes:
See "
When My Blue Moon Turn To Gold Again
" in our CD section.
Sound:

Contents:

Covers:
[front]
[back]