Menu
Concerts
Reviews
Multimedia
Legal Information
Boston Tea Party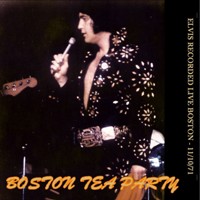 Recorded live at Boston Garden
November 10, 1971 Evening Show. Boston, MA.
Tracklisting
Recording:
Audience
Highlights:
Polk Salad Annie, One Night, How Great Thou Art. I'm Leavin' & Funny How Time Slips Away
Notes:
See "
Power Of Zazham
" and "
One Night Only
" in our CD section.
Sound:

Contents:

Covers:
[front]
[back]
Other Releases